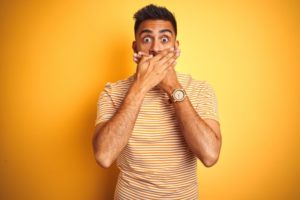 Many people forego orthodontic treatment because they aren't sure whether it's worth it to make the investment. For those people, at-home aligner programs such as Smile Direct Club are incredibly tempting because they seem like a cheaper option that can give you all the same results. However, that's not exactly the case. At-home aligners can cause more headaches and oral health problems than they're worth, which is why it's always more cost-effective and safer to visit a trained professional for orthodontic treatment instead. Read on to learn why the American Association or Orthodontists administered a consumer alert for Smile Direct Club.
The Downsides of At-Home Aligners
When you choose an at-home delivery aligner service like Smile Direct Club, you'll notice just how many downsides they have. Not only will you not have a personal relationship with your dentist, but you won't know how many years of experience they have or whether they have specialty training in orthodontics. Buying these trays from a company that doesn't place a strong emphasis on patient-dentist relationship can make it feel like your individual needs aren't a priority. Plus, if something goes wrong you're experiencing out-of-the-ordinary symptoms due to your aligners, who knows how long it will be before you're able to see your long-distance dentist.
4 Risks of Choosing Smile Direct Club
If you choose an at-home aligner program that doesn't put you in-touch with a physical dentist to take impressions of your mouth and examine the severity of your orthodontic issues, that can lead to a variety of problems. Here are some of the risks you'll be taking by choosing this route.
Losing Teeth
With no real in-person dentist accountability, if serious problems begin arising during your treatment, such as tooth loss due to aligners shifting your teeth to quickly, it could be too late before they're able to address a defective set of trays.
Developing Bite Problems
After paying for and completing your entire treatment, you may think that your orthodontic issues are fixed and they'll never come back. However, that's not the case. Your dentist will continue monitoring your smile even after your treatment and make sure that your teeth don't drift back into their original position, helping you avoid bite problems and other misalignment issues.
Spending More Money In the Long Run
Although it may seem like you'll be saving money, being treated in-person by a professional is always the most cost-effective route to take. If you experience oral health problems due to Smile Direct Club aligners, expect to have to pay several dental bills in order to get your grin's health back on track.
Non-Comprehensive Orthodontic Treatment
When you order aligners from Smile Direct Club, they'll only be seeing the mold of your mouth. However, orthodontic problems can only be safely addressed when your dentist is able to examine X-rays of your facial structure as well. This will prevent oral health problems from arising down the road.
If you would like to fix orthodontic issues discreetly, it's always the best decision to visit your dental professional in person so they can assess your unique situation. Although Smile Direct Club treats everybody's smiles as though they're the same, they're not! That's why it's important to choose a professional who understands that your unique orthodontic issues require a unique treatment plan.
About the Author
Dr. Joshua Holcomb is an active member of several dental organizations and regularly pursues advanced education to stay up-to-date with the latest advancements in his field. He offers comprehensive dental care, including cosmetic procedures such as Invisalign. He is passionate about helping his smiles improve their oral health while also boosting their confidence. For questions or to schedule a consultation, visit his website or call 901-850-0300.