Meet Your Collierville Dentist
Joshua A. Holcomb, DDS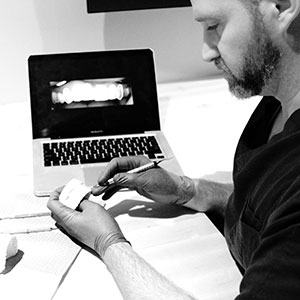 Hello, I would like to introduce myself.
My name is Joshua Holcomb, D.D.S.
I am a local Dentist in a visible location in the heart of Collierville's market place. I am licensed in Tennessee and am in good standings with all regulations and boards ADA, TDA, and AGD.
I have been practicing general dentistry for six years. I am dedicated to practicing many aspects of dentistry including fixed and removable prosthodontics, oral surgery, implantology, conscious sedation, reconstructions, endodontics, TMJ therapy, geriatrics, and pediatrics.
I am committed to quality and excellence of clinical skill while complementing my practice with specializing in treating all patients as individuals, especially those who are uneasy when it comes to dental care. I take great pride in providing each patient with gentle, specialized care and support.
I received my Doctor of Dental Surgery degree from the College of Dentistry, UT Memphis in 2009. Prior to that, I attended the Franciscan University of Steubenville, where I studied in the Pre-Theolagate Program. I also attended University of Memphis, where I received a B.S. in Biology with a Minor in Philosophy. I continue to study advanced dentistry as a faculty club member in Scottsdale Arizona under the Spear's Master Curriculum. I have been a faculty club member of the Spear Faculty Club since 2009. I also travel to many destinations all over the United Sates to ascertain that I study under the top leaders in each field. While the average dentist in America completes 14 hours of continuing education per year, I have consistently completed well over 100 CE hours per year. This is how I ensure that my patients are receiving only the best in oral healthcare at my practice.
I am a blessed father. I have three daughters and one son, Isabella, Gianna, Gabriel, and Liliana.
I genuinely cannot wait to welcome you to my practice.
Sincerely,
Dr. Joshua Holcomb