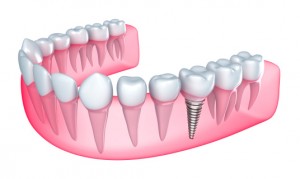 Looking for a way to pay for your dental implants in Collierville? Why not use your tax return? Implants can improve every aspect of your life, not just your smile. This makes them one of the smartest investment you can make, not just during tax season but year-round.
Four Reasons to Consider Dental Implants
Here are four advantages that make dental implants a better choice than other approaches to smile restoration:
Beauty. Dental implants are designed and custom crafted to match healthy natural teeth in every way possible. You'll never have to worry about them looking "fake" or out of place. In fact, the only way anyone will ever know that you have implants is by running an x-ray scan of your face.
Strength. Dental implants use medical grade titanium fixtures embedded in the jawbone to retain their strength. This makes them superior to older forms of restoration such as adhesive dentures, which can come loose at the worst possible time.
Ease of care. Dental implants require no more care than you would devote to your natural teeth and gums. Your dentist will probably recommend a soft bristle toothbrush and nonabrasive brand of toothpaste to keep your implants looking their best.
Affordability. The growing popularity of dental implants means that more dentists are offering this gentle, effective form of therapy to their patients. In turn, this has lowered costs while boosting quality. Ask your dentist about financing options and other ways to make implants more affordable than ever.
How Long Does It Take to Get Dental Implants?
The exact answer to this question will vary somewhat from one patient to the next. However, here's a general timetable to give you some idea of what to expect:
The process begins by scheduling an initial consultation with your dentist. He or she will examine your teeth and make a treatment recommendation at that time.
If you and your dentist agree that dental implants are the right approach in your case, then the next step is to schedule an appointment for the placement of the titanium fixtures.
Your body will require about three months to recover from this initial procedure. During this time, the bones in your face will fuse with the fixtures through a natural process called osseointegration.
When you return to your dentist, he or she will place a small piece of connecting hardware called an abutment. This will connect the fixture to the final restoration itself, which is typically crafted from porcelain and designed to match your mouth and skin tissues precisely.
Once the prosthetic teeth are in place, you'll be able to show off your new smile to the world.
Dental implants enable their wearers to enjoy all the activities that tooth loss may have taken away. These include eating a full range of healthy, delicious foods, engaging in sports and exercise, conversing with others, and carrying on an active social life. Those are a lot of benefits to gain from a simple, safe procedure.
Talk to your dentist soon about implants and other treatment options. You'll soon be looking forward to a happier, healthier life with your restored smile.
About the Author
Dr. Joshua Holcomb is a skilled general dentist with special training in implants, pediatrics, oral surgery, and other advanced techniques. He keeps his skills sharp through ongoing training and research as well as his daily interactions with patients. You can reach his office online or by calling (901) 850-0300.