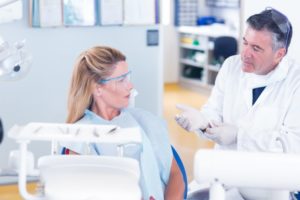 It makes sense that you have countless questions about getting porcelain veneers in Collierville that you'd like to have answered before you commit to the procedure. When you schedule your initial consultation with your cosmetic dentist, you'll be able to learn the specific details of your unique situation, allowing you to feel comfortable about making the decision to invest in a beautified smile. Read on for four questions that your dentist will answer during your appointment.
How Many Porcelain Veneers Will I Need?
Porcelain veneers can fix one damaged tooth or an entire smile, and it's ultimately up to you to decide which teeth bother you enough to get treated. For example, if your four front top teeth are damaged or misaligned, that would have a huge impact on your self-esteem because they're so visible, and it makes complete sense that you would want to repair them. If only one of your front teeth is noticeably damaged, you can also choose to get a porcelain veneer for just that one. During your consultation, your dentist can weigh-in if you're having trouble deciding how many veneers you'd like to have placed.
How Long Will The Procedure Take?
On average, the porcelain veneers procedure takes place over three visits to your cosmetic dentist in Collierville. Depending on the severity of the imperfections that you'd like to repair and whether there are complications that may take extra time to sort out, it could take more. During your initial visit, your dentist will lay out a treatment timeline for you, so you know exactly what to expect.
What is the Cost of Porcelain Veneers?
Dental veneers can be made from a couple of materials, some less costly than others. Depending on your needs and wishes, you could speak to your cosmetic dentist about the difference in price and quality between composite and porcelain veneers. The cost of your treatment will depend on the main factor of how many teeth you'd like to have repaired. At your consultation, your dentist will outline the cost of the entire procedure for you.
Will Veneers be Able to Help Me Achieve the Smile I've Always Wanted?
Porcelain veneers are a versatile and effective cosmetic treatment that can fix a variety of imperfections. Patients typically get veneers to fix the following problems:
Gaps between teeth.
Minor misalignment or crowding issues.
Chipped, cracked, or fractured teeth.
Severely discolored teeth.
During your consultation, your dentist will discuss the desires that you have for your smile and let you know whether porcelain veneers can help you achieve them. If not, they may suggest another treatment plan that will benefit you in more ways.
If you're hung up on whether or not to get porcelain veneers to repair your damaged smile, the best way to get your questions answered and make a sound decision is to schedule an initial consultation with your cosmetic dentist. They'll walk you through the entire process and make sure you have all the information you need to feel comfortable and confident investing in your smile.
About the Author
Dr. Joshua Holcomb is committed to providing beautiful results and high-quality cosmetic treatments to each of his patients. He works closely with them and takes the time to listen to their wishes so he can give them a smile that they'll be proud to show off. He studies the latest advancements in dentistry and completes over 100 hours of continuing education courses every year to ensure his patients are receiving the highest caliber of oral healthcare. For questions or to schedule a consultation for porcelain veneers, visit his website or call 901-850-0300.