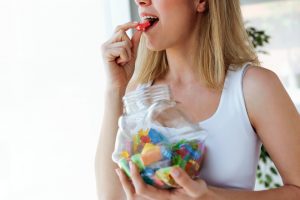 The leaves are changing colors and the temperature is dropping, which means Halloween is right around the corner. Do you enjoy getting scared? Forget about ghouls and goblins – below are five frightening statistics about oral health! From how many adults have cavities to the number of people who skipped a dental checkup this year, these figures are downright terrifying. Keep reading to discover what's keeping your dentist up at night and how you can protect your oral health this Halloween.
Read These Spooky Stats, If You Dare
The following statistics give dentists nightmares, and they should frighten you too:
Over 90% of adults (ages 20-64) have cavities and 27% have untreated tooth decay.
Almost 18% of children (ages 5-19) years have untreated cavities.
Over 47% of adults (ages 30-64) and 70% of seniors 65+ have some form of gum disease.
25% of adults (65 years and older) have lost all their teeth.
Over 38% of adults (ages 18-64) didn't go to the dentist in the past year.
Protect Your Oral Health this Halloween
Here are some smart tips to follow to avoid cavities and gum disease this fall.
Select Your Candy Wisely
Be careful about what types of treats you consume. Sticky candies like caramel, taffy, Jolly Ranchers, Airheads, and Skittles, easily cling to teeth. The longer sugar stays in the mouth, the higher your risk of tooth decay. Choose chocolate or powdery candies instead, as these treats dissolve more rapidly and are therefore slightly more smile-friendly.
Avoid Snacking
Try to avoid snacking and instead only eat Halloween candy after a meal. Snacking throughout the day gives the bacteria in your mouth more chances to feed and produce harmful acids. Eating candy after lunch or dinner is safer because the body produces more saliva when eating a full meal. Saliva helps clean the mouth and protect teeth by washing away bits of food (or candy) and neutralizing acids.
Chew Sugar-Free Gum
Chewing gum is another great way to stimulate saliva production. Wash away any leftover candy crumbles by chewing on sugar-free gum or choose gum over candy to satisfy your hankering for something sweet.
Schedule a Dental Checkup
Finally, do not forget to schedule a dental checkup this fall. Routine dental exams and professional cleanings are key to preventing tooth decay, gum disease, and other oral health issues. Most dental insurance plans cover two annual checkups at 100%, so you may not have to pay anything out-of-pocket.
Don't become a part of the five scary statistics listed above! Follow these preventive oral health tips to stay smiling this spooky season and throughout the entire year.
About the Author
Dr. Joshua Holcomb is dedicated to helping his patients in Collierville achieve and maintain healthy smiles. That's why the proud University of Tennessee-Memphis graduate takes over 100 hours of continuing education each year. To learn more preventive tips to protect your oral health, visit Dr. Holcomb's website or call 901-850-0300.