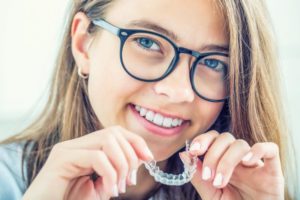 Many adults and older teenagers prefer Invisalign in Collierville to straighten their smile because it doesn't involve the use of metal brackets and wires cemented to the front of the teeth. However, there are plenty of other advantages to Invisalign that have nothing to do with their appearance that you may not realize. Continue reading to learn more from your dentist about the many benefits of Invisalign clear aligners.
Invisalign Isn't Bonded to Your Teeth
The main thing that makes Invisalign different from traditional braces is the fact that they are not bonded to your teeth. This means that you can take them out at any time, allowing you to avoid dietary restrictions that are normally associated with braces. Invisalign uses a series of clear aligners to slowly move your teeth into their new locations.
Fewer Maintenance Visits
Traditional braces involve the use of an arch wire in order to straighten teeth. This means that patients have to go to their dental office to have this wire tightened routinely. With Invisalign, you switch to a new set of aligners approximately every two weeks. In the end, this means less routine visits to your dentist compared to the traditional orthodontic route.
Easier to Clean Your Teeth
Being able to take out your aligner trays makes your teeth much easier to clean. You can brush and floss your teeth just like you normally would before putting your aligners back in. With traditional braces, this is challenging because you need to work around brackets and wires where food easily becomes stuck.
More Comfortable
While you cannot work towards a straighter smile without some level of soreness or discomfort on occasion, Invisalign uses less overall pressure to move your teeth than metal braces to. This ultimately leads to less soreness throughout the whole process. There are also no wires poking at the soft tissues in your mouth and causing pain to your cheek, tongue, or gums.
Fixes a Variety of Alignment Issues
Even though some severe dental issues require traditional braces in order to be corrected, there are still many different alignment problems that Invisalign has no trouble fixing. Here are some of the issues where clear aligners can be a solution:
Overcrowding
Crossbite
Crooked teeth
Gapped teeth
Open bite
Overbite
Underbite
Besides just looking great, there are all sorts of ways that Invisalign in Collierville can benefit you. Ask your dentist if Invisalign would be a good solution for your alignment issues. You'll have a straighter smile in no time!
About the Author
Dr. Joshua Holcomb earned his Doctor of Dental Surgery from the College of Dentistry, UT Memphis and consistently completes well over 100 hours of continuing education each year. To learn more about Invisalign as a solution for alignment issues or to schedule a consultation, visit his website or call (901) 850-0300.