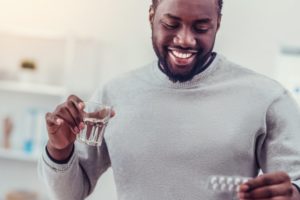 Have you been putting off an important dental treatment or your regular checkups and cleanings because the thought of scheduling an appointment makes you feel anxious and nervous? It's estimated that about 75 percent of adults in the United States experience some type of fear, anxiety, worry, or nervousness when they consider visiting their dentist. Instead of skipping out on these important appointments, you could visit a sedation dentist in Collierville to make your visit less traumatic. Read on to learn how sedation dentistry can help you feel more relaxed and comfortable at your dentist's office.
What Types of Dental Sedation Are Available?
Depending on the severity of your dental phobia and what type of treatment you need, your dentist may suggest one of two types of sedation methods.
Nitrous Oxide
You may have heard of nitrous oxide referred to as laughing gas at some point. This sedation method works quickly to help you feel euphoric, relaxed, and at ease. It's a safe sedation method for patients of all ages. Once you get settled in the treatment chair, the dental team will place a small nose-mask on your face to administer a combination of oxygen and gas. Before you know it, your procedure will be completed, and as soon as the mask is removed, you'll start to feel the effects wearing off.
Oral Conscious
If you have more severe dental anxiety or fear, your dentist in Collierville may suggest oral conscious sedation instead. This is in the form of a prescribed pill that you'll take directly before your appointment. That way, you arrive to your dentist's office already feeling calm and relaxed. Because you take it before your appointment, you'll need to make sure you have a ride to and from their office. During your procedure, you'll remain awake, but you'll likely not remember the details of the treatment after it's over.
Is Sedation Dentistry Safe?
There is always some type of risk with anesthesia, but when administered by an experienced sedation dentist, you can rest assured knowing that it's completely safe. If you suffer from sleep apnea, it's a good idea to let your dentist know before your treatment so they can avoid any type of complications. If you have any questions or concerns about the process, you can always ask your trusted professional over the phone or in person at a consultation.
How Can Sedation Dentistry Benefit You?
Sedation dentistry offers patients a variety of unique benefits. Instead of having to endure traumatic appointments in an effort to upkeep your dental health, you'll be able to rest assured that each of your appointments will be relaxing and comfortable with sedation. Not to mention, sedation is also a good option if you have a difficult time sitting still in the treatment chair. It will allow you to feel more comfortable and give your dentist a chance to work quickly to make your treatment more efficient and effective.
Instead of dreading the day you need to visit your dentist for treatment, schedule an appointment with an experienced sedation dentist! That way, you can feel calm, collected, and comfortable while getting the dental treatments necessary to preserve your natural smile.
About the Author
Dr. Joshua Holcomb is passionate about making each of his patient's experiences at the dentist as comfortable and positive as possible. He has completed advanced training in a variety of dental specialties, including conscious sedation. He also completes over 100 hours of continuing education courses every year, ensuring that his patients receive the best possible care. For questions or to schedule a consultation to learn more about sedation dentistry, visit his website or call 901-850-0300.