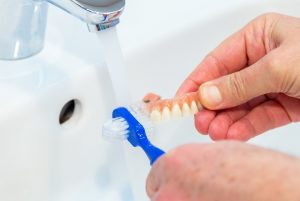 If you've lost all your teeth, dentures are a great solution to restore a beautiful, functional smile. Although they aren't subject to tooth decay, your oral hygiene habits are crucial to prolonging the life of your dentures. Not to mention, you'll improve your oral health and keep your smile odor-free. To save time when cleaning dentures, you might leave them in your mouth while brushing them. This can be convenient, but you'll want to think twice about your routine. Here's what you need to know to keep your dentures clean and looking their best.
Can I Leave My Dentures in My Mouth while Brushing?
Keeping your dentures clean is important to prevent stains, infections, and bad breath. Daily brushing with a soft-bristled toothbrush is the best way to remove harmful bacteria, but you'll want to skip using abrasive toothpaste. You can clean your dentures while they are still in your mouth, but it isn't a good idea to make it a habit.
All surfaces of your dentures need to be cleaned thoroughly each day. If they aren't removed from your mouth, bacteria and food particles can get trapped between the acrylic base and your gum tissue. Over time, this can irritate the soft tissues and lead to an infection. You may also notice an unpleasant odor developing.
What is the Best Way to Clean My Dentures?
No one has time for a lengthy oral hygiene routine. Thankfully, you can save time while effectively cleaning your dentures by following a few simple tips:
Use a soft-bristled toothbrush and mild hand or dish soap to clean your dentures daily. Don't use regular toothpastes because they are abrasive and can damage your denture.
Use a soft-bristled toothbrush to gently clean your gums, cheeks, the roof of your mouth, and tongue at least once a day. Be sure to remove any denture adhesive residue from your gums.
Never expose your dentures to hot water or boil them, which can cause your new teeth to warp.
When handling your dentures, use two hands. Place a towel on the counter and floor to provide a layer of protection in case you drop them.
Remove your dentures every night and soak them in a cleaning solution to remove plaque and bacteria left behind by your toothbrush.
Visit your dentist regularly to have your dentures cleaned and adjusted to ensure they continue to serve you for many years.
Enjoy a Clean, Beautiful Smile
With the right care over the years, your dentures can last for 5 to 7 years before needing to be replaced. Commit to your oral hygiene to keep your dentures sparkling and always looking their best.
About Dr. Joshua A. Holcomb
Dr. Holcomb earned his dental degree from the College of Dentistry, UT Memphis. He has completed advanced training under the Spear Faculty Club and is a member of various professional organizations, including the American Dental Association. If you're ready to replace your missing teeth, Dr. Holcomb can help. Contact our office today to schedule your consultation.