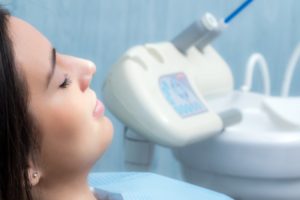 Is something holding you back from getting the oral health care you need? Maybe you struggle with anxiety, a fear of the dentist, or a medical condition. Whatever challenges you face when it comes to taking care of your smile, your Collierville sedation dentist can help you feel as comfortable, confident, and relaxed as possible. Read on to learn more about two common methods of sedation dentistry and which one might be right for you.
Nitrous Oxide
Nitrous oxide, or laughing gas, is the lightest form of sedation dentistry. To administer it, a small mask is placed over your nose. You'll instantly feel more content and at-ease as soon as you begin to inhale through it. Some patients feel so relaxed that they begin to giggle, which is where the name laughing gas comes from.
Nitrous oxide lets you stay aware and able to form memories, but the drowsy sensation will prevent you from feeling overwhelmed or anxious. Throughout your treatment, your dentist will monitor your levels of sedation to ensure that you're as safe and comfortable as possible. Afterwards, the effects will wear off within moments of the mask being removed, and you'll be able to go about your day as usual.
Nitrous oxide may be right for you if you:
Need a little extra help to relax in the dentist's chair.
Don't want to be heavily sedated.
Are undergoing nearly any type of dental work or cleaning.
Have difficulty numbing with local anesthesia alone.
Oral Conscious Sedation
This method of sedation dentistry requires a prescribed mild sedative in the form of a pill. Typically, you'll be directed to take it an hour before your appointment from the comfort of your own home. This way, you'll be feeling completely relaxed and calm before you even leave for your appointment. However, you can expect to feel this way for the rest of the day and will need a trusted friend or family member to drive you to and from your dentist's office.
Oral conscious sedation doesn't put you to sleep when your dental treatment begins. You'll be awake and aware enough to respond to requests from your dentist, but with this advanced form of sedation, you won't form any memories of your visit.
Oral conscious sedation is a great choice if you:
Suffer from moderate or severe dental anxiety.
Tend to cancel or skip your dental appointments out of fear.
Have a particularly sensitive gag reflex or teeth.
Have a medical condition that makes sitting still for long periods of time uncomfortable.
If going to the dentist makes your teeth chatter with fear, you can still get the dental care you need. Sedation dentistry is a relaxing, safe, and comfortable way to get the healthy smile you deserve!
About the Author
If you've been putting off the oral health care you need because of your dental anxiety, Dr. Joshua Holcomb of Collierville, TN is here to help. He makes it his personal goal to ensure each of his patients receives gentle, specialized care and support at every appointment. Your comfort and health are his number one priority, which is why he offers both nitrous oxide and oral conscious sedation to help you feel as confident as possible. If you would like to know more about sedation dentistry, he can be contacted at his website or (901) 850-0300.