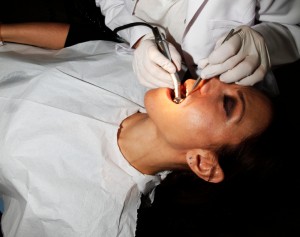 Dental phobia is a real condition. We're not lying. There are a lot more people than you may realize that suffer from this condition. Also referred to as dental anxiety, it's a condition that speaks for itself. It doesn't matter how old or young a patient is, there always seems to be something that keeps them away from the dentist's office. Maybe it's the sound of the dental drill that gives them nightmares, or the office "smell" that permeates throughout the practice. Forgoing treatment outright is not a smart decision. If you suffer from dental phobia or anxiety, you know firsthand the feelings that occur. We want you to know that there are ways to deal with dental phobia, and one is through conscious sedation dentistry. This specialized treatment is designed to keep you comfortable and relaxed throughout your procedure. Our dental office in Collierville, TN offers this treatment for all of our patients. If you don't suffer from any type of anxiety, then this isn't for you. Having trouble finding a great sedation dentist, Collierville residents? Dr. Joshua Holcomb is on the job and wants you to know you're in great hands.

Oral Conscious Sedation is a Simple Process
The whole point of this treatment is to keep you relaxed and comfortable, but alert enough to answer questions or voice any concerns. The minute you hear a dental drill or anything else that sparks your anxiety, you'll want to leave the office immediately. We understand, that's why this treatment is so effective. You might have heard of other dentistry techniques like "laughing gas", but oral conscious sedation is a much quicker process with less side-effects. The goal isn't to completely knock you out, but to provide a level of comfort and relaxation that will allow you to receive the dental treatment you need.
The alternative is choosing no treatment at all. When you do that, you're basically inviting any and all bacteria to throw a party in your mouth. This is one party you'll have to endure for a while if you don't get problems fixed. Got a cavity that's burying itself into your tooth and causing massive pain, but you don't want to get it treated because of a past experience? We can assure you that you'll remain relaxed throughout treatment with our oral sedation techniques. They're safe, highly effective and strong to the point where you may not even remember the procedure. Whatever keeps you comfortable is what we want.
Ready For Treatment? Make an Appointment Today for Sedation Dentistry, Collierville
It's okay to be nervous about coming in for a dental appointment, but forgoing necessary dental procedures is a decision you will soon regret. Our team wants your smile to look and feel amazing, so do yourself a favor and let us help you. We can bring relaxation back into your dentist-office experience. We welcome patients from all over the Collierville, TN area, including Germantown, Cayce, Handy Corner, Fisherville, Rossiville and beyond.