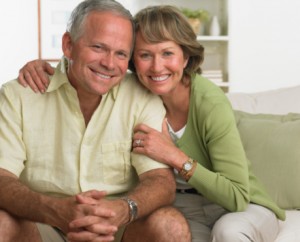 Missing even a single tooth can greatly impact your quality of life, making it difficult to eat and speak properly. Multiple missing teeth is even worse; depending on the location in the mouth where the teeth have been lost, it may prove difficult to get the nutrition you need due to inability to chew certain foods. Fortunately, today's advanced technology makes it possible to reclaim a complete smile and a strong bite with custom crowns and bridges.
Replacing Missing Teeth with a Bridge
Your crown and bridge treatment will begin with a consultation with Dr. Holcomb. Our team will take all aspects of your oral health into consideration when recommending treatment. If you are missing one or more teeth in a row, crown and bridgework may prove the ideal solution for you. As long as the teeth situated on either side of the gap are healthy enough to support dental crowns, a bridge can be used to replace the teeth you have lost.
A crown is a custom dental restoration that is typically crafted of porcelain or porcelain-fused-to-metal. It is meticulously designed and milled to fit precisely over your existing tooth after it has been prepared for placement. A bridge is comprised of one or more false teeth known as pontics. Supported by matching crowns, this bridge will rest snugly against your gums for a seamless appearance and total comfort. Due to the materials used to create your restorations, your crowns and bridge will look and feel just like natural teeth.
Schedule Your Crown & Bridge Consultation Today
If you are missing one or more consecutive teeth and are interested in learning more about your restorative dentistry options, please don't hesitate to contact our office today. Dr. Holcomb and his team look forward to providing you with the unparalleled level of quality dental care you deserve. Our state-of-the-art dental practice in Collierville, TN proudly serves patients from throughout the surrounding areas as well, including Germantown, Olive Branch, Bartlett, Pembrook, and beyond.