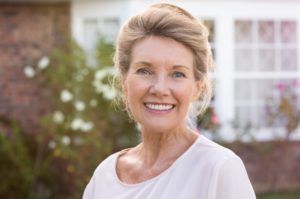 Do you have dentures? You've already made the right decision in replacing your missing teeth, but how do they feel and function? If you're like most, your dentures can slip or come loose when you talk or chew. This can not only make you feel self-conscious, but it can irritate your gums and mouth as well. If you feel like you could be getting more out of your prosthesis, you're right. Dentures supported by dental implants in Collierville create a much more stable, easy to use, and comfortable option. Keep reading to learn just how effective implant-retained dentures can be.
What Are Implant-Retained Dentures?
An implant-supported denture is a type of prosthesis that is supported by and attached to dental implants. A regular denture rests on your gums, and it uses suction or adhesives to keep it stabilized and fitted to the gums.
On the other hand, implant-retained dentures use dental implants placed in your jaw to support your prosthesis. Implant-retained dentures have special attachments that snap onto connecting pieces on your implants, creating a super stable fit.
Dentures supported by implants can be permanently fixed in your mouth (only a dentist will be able to remove it). But if you have been wearing dentures for years and are used to removing them, you can get implant-retained dentures that just clip on and off your dental implants to hold your prosthesis in place. This helps you enjoy the health benefits of having dental implants like a stronger jawbone with less bone deterioration while still allowing you plenty of convenience.
What Are the Benefits of Implant-Retained Dentures?
Implant-retained dentures have many benefits. Here are some improvements patients see regarding the function and comfort of their appliance:
Stability during eating: Eat and chew without any worries of your dentures slipping or shifting because of the multiple anchor points your implants provide. Additionally, you won't have to limit your diet like you may have been doing with normal dentures, but you should still avoid extra hard or sticky foods.
Improved confidence: Dentures supported by implants look and feel more like natural teeth. Don't worry about your dentures shifting or coming out when talking. Your implants provide the support the prosthesis needs so you can talk and laugh freely.
Improved comfort: Dentures can be abrasive to the gums, causing discomfort when they move. Since implant-retained dentures are fixed in place, there is no discomfort or irritating rubbing on the gums.
Less cumbersome: The large front and back pieces of your dentures go over the gums and cover a large portion of the lower interior of your mouth. These pieces are uncomfortable and can affect the way you speak. Dentures supported by implants are less bulky because they don't need that extra material to keep the prosthesis in place.
If you struggle with slipping or shifting dentures, or just want to feel more comfortable, what are you waiting for? Contact your dentist in Collierville today to get your smile the comfort and support it needs!
Meet the Dentist
Dr. Joshua A. Holcomb takes pride in providing each patient with the specialized care they need. He enjoys helping his patients look and feel more comfortable, which is why he offers treatments like implant-retained dentures. He currently runs his own practice and can be contacted by phone at (901) 850-0300.