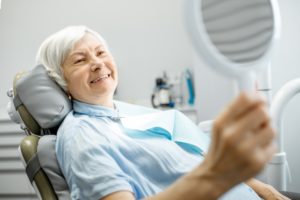 Your dad finally got a dental implant to replace that tooth he lost. He loves it! He says it's comfortable in his mouth, and people who don't know he lost a tooth can't tell the difference. And of course, he's especially happy that he can enjoy his favorite foods again. But with everything he's gotten back, he's bothered by one question: will it last? A dental implant can be a great solution for missing teeth; here's what you need to know about the lifespan of your dental implants in Collierville and what you can do to keep your new "teeth" healthy.
What are Dental Implants?
A dental implant is a small post (usually titanium) surgically placed into your jawbone; it serves as the root for a ceramic tooth called a crown, which is held in place by an abutment. Since the crown is held in place by the implant, you don't have to worry about your new teeth slipping around, and chewing ability is almost that of natural teeth. The new teeth look and feel natural in your mouth; most people can't tell the difference by looking.
So How Long Does a Dental Implant Last?
When it comes to the actual implant itself (the post in your jaw), it can survive for decades—potentially the rest of your life if well cared for. The crown and abutment, on the other hand, are more vulnerable to damage. A crown will usually last around 10 to 15 years with normal wear and tear.
It's important to note that the location matters. When placed in the back of the mouth, the implant receives more strain when chewing, which can affect how long its lifespan.
What Can I Do to Make My Implant Last Longer?
Good oral health makes a big difference; the more care you give to your mouth, the more likely you'll have your implant for life and the less often you'll need to replace a crown. You can make sure your implant remains as long as possible by:
• Brush twice a day with a soft-bristle tooth brush; make sure to brush under and around the crown.
• Floss daily.
• Avoid biting extremely hard items like pen tips and opening things with your teeth.
• See your dentist twice a year for maintenance and regular cleaning; follow any instructions on specialized care.
• Eat right; avoid sugar and eat plenty of fibrous fruits and vegetables.
• Don't smoke.
When it comes to long-term tooth replacement, dental implants are usually a great option. But just like the rest of your mouth, how long your implant lasts largely depends on two things: 1) the skill and care of your dentist in Collierville, and 2) making sure you take care of your mouth at home. Do your part to make sure you keep your new teeth as long as possible!
About the Author
Dr. Joshua A. Holcomb has been practicing dentistry for six years. He is skilled in several aspects, including prosthodontics, oral surgery, implantology, and geriatric and pediatric dentistry. He provides gentle, specialized treatment for all patients, especially those who are apprehensive about receiving dental care. For more information about his practice, visit his website or call (901) 850-0300.