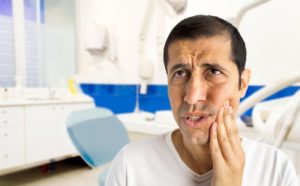 Between the typical work day, maintaining a balanced family life, workout, and still have time for a hobby, there are a lot of things for American adults to be stressed about. Stress is just something that comes with getting older and gaining more responsibilities—but you shouldn't let it take over your mental or physical health. In fact, if you're too stressed your oral health could decline as well.
Stress can cause many people to have unnecessary wear and tear on their teeth from bruxism—or better known as chronic teeth grinding. Learn how your dentist in Collierville can help with your teeth grinding habit in this week's blog post.
Understanding Bruxism
Think about how your body responds to stress. Do you get headaches? Do you lose appetite—or contrarily binge eat? One of the most common bodily responses to stress is to clench your jaw which adds unnecessary pressure on your teeth. However, it becomes a real problem when you start to clench and grind your teeth subconsciously.
If you don't have control over your grinding habit, you could develop real problems in your smile. Your teeth could become damaged from the constant grinding, experience cracks and chips, or even misalign your teeth and lead to TMJ disorder.
The Signs of Bruxism
If you notice any of these signs or symptoms, you need to speak to your Collierville about how you can receive treatment right away:
Wear and tear signs on teeth—especially back teeth.
Orofacial pain in the head, neck, jaws, and teeth.
Persistent headaches.
Ear pain similar to an earache.
Irregular sleeping patterns.
Rely on a Dentist for Assistance
The best way to address head, neck, jaw or oral pain is to turn to your local dental practice for assistance.  You'll need to schedule an appointment so that your dentist can take their time to review your current oral health. You can expect your appointment to go along these lines:
Your dentist will carefully evaluate your teeth and gums, also paying attention to the jaw to determine the true cause of your discomfort.
Your dentist may also take dental x-rays to view the inner and outer structures of your teeth, gums, and jaw.
If your case is in fact teeth grinding, then your dentist will prescribe a custom nightguard to protect your teeth from further damage.
A custom nightguard helps by placing a barrier between your two arches of teeth while you sleep. It's super simple to use! All you do is wear the mouthpiece when it's time to rest at night. This way, your teeth will be protected from the grinding that normally takes place at night.
In the meantime, try not to stress so much and contact your dentist!
---
About Our Office
Dr. Holcomb knows that dental care is about more than deep cleanings and dental x-rays. Our dental team works to keep your whole smile strong by even protecting your teeth when they need extra support, like with custom-made nightguards. Learn more about how we can help you today!