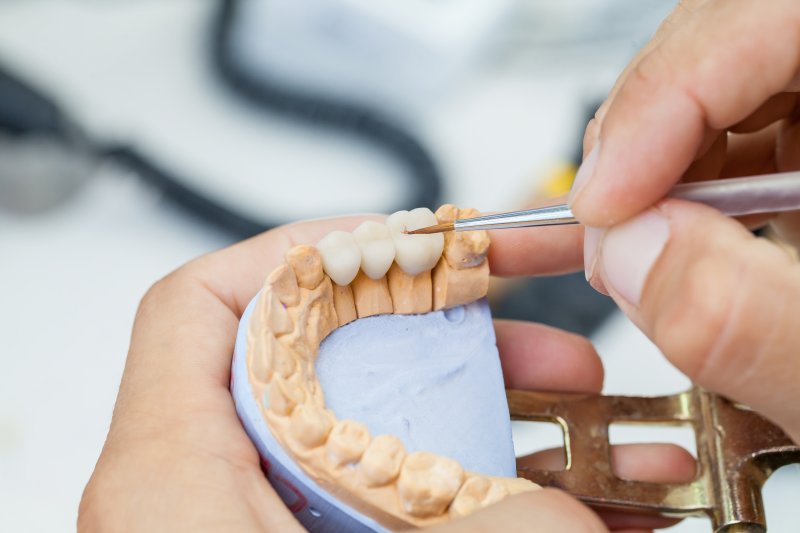 You may have received a dental crown in the past, but you probably don't know how it was prepared. There are several steps involved in creating a prosthetic that will fit your mouth perfectly.
If you're curious about how this process works, and want to learn more, continue reading.
Step 1: Tooth Reduction
The first step in your dental crown journey is to have the affected tooth reduced. Crowns are typically for severely damaged or decayed teeth. Your dentist will need to use their instruments to clear away the decay to leave only healthy tooth.
Your dentist may then build up the tooth with a special composite material to make sure that it will support the crown after it's reduced. Your dentist will then gently remove enough enamel to form your tooth into a post that the crown will eventually sit on.
Step 2: Impressing and Temporary Placement
The next step is taking an impression of your teeth. This is done using a special gel in two trays you'll bite down on. This impression will be used to determine the size, shape, and alignment of your final prosthetic.
Once the impression is taken, it is sent off to a dental lab to help fabricate your permanent prosthetic. While you're waiting for the crown to be made, your dentist will cover the tooth with a temporary crown for stability and protection.
Step 3: Fabrication
Once the dental lab receives your impressions, they begin their own long process of creation. A ceramic blank is first milled down by a machine that scans the impression. The milled piece is then dipped in liquid ceramic to create the shell.
Ceramic powder is then added to the piece and compressed under intense pressure before being pulled out and chiseled down to its final shape.
Step 4: Permanent Placement
The final step begins once the permanent crown arrives at your dentist's office. You'll schedule a follow-up appointment where the temporary crown will be removed, cleaned, and examined.
Your dentist will then place your permanent crown and adjust it to fit in the unoccupied space. Once this is done, you'll have a restored smile with a natural-looking prosthetic.
As you can see, ensuring a perfect fit for dental crowns is a meticulous process. If you're considering a dental crown or have questions about the process, don't hesitate to reach out to your dentist. They can provide you with detailed information and guide you through each step to ensure a comfortable and successful experience.
About the Author
Dr. Joshua A. Holcomb has been practicing dentistry for over six years, and his favorite part of the job is still the people. He received his Doctor of Dental Surgery degree from the College of Dentistry, UT Memphis. Since then, he has regularly completed over 100 hours of additional training each year to ensure his patients receive the best care available. To schedule an appointment at Joshua Holcomb DDS, call (901) 850- 0300 or visit the website to explore other services.