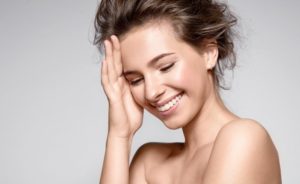 Stained, discolored, gapped, misaligned or crooked teeth don't do much for your self-esteem. To make matters worse, they can make for some poor first impressions – everybody remembers your smile. With that said, there is a way to fix your front teeth in a relatively short amount of time: with the placement of porcelain veneers. However, before settling on this as the route to take, here are 5 things you should know.
#1 – Understanding What Porcelain Veneers are
Made from high-grade ceramics, porcelain veneers are thin shells that fit directly over your front teeth. The process begins with your cosmetic dentist removing a slight layer of enamel to allow the veneers to fit flush with your other teeth. Then, bite impressions are captured and used to create a custom smile plan that's sent to an in-network lab.
A temporary set of veneers are placed to protect your teeth during the fabrication phase. Then, when your permanent veneers are ready, you'll be invited back to your cosmetic dentist's office to have them bonded into position.
#2 – Teeth Whitening and Porcelain Veneers Don't Mix
If you have some teeth staining or discoloration and you're considering teeth whitening, then it's important to have it done before you have any veneers placed. Here are two reasons why:
Veneers are specially coated to resist staining, so teeth whitening isn't necessary.
Attempting to whiten veneers will leave them dull, and it will cause a contrast with the other teeth.
#3 – Porcelain Veneers aren't a Necessity
Although receiving a set of veneers can provide functional benefits such as allowing for better pronunciation and an even bite, the procedure is primarily cosmetic in nature. Thus, the placement of veneers typically isn't considered a necessity.
#4 – There is No Set Cost
Because the porcelain veneers process is completely customized, there is no set price for care. Some of the factors that will affect the cost are the number of teeth that need repair and the condition of your oral health.
Your cosmetic dentist will create the perfect plan to meet your desires and then generate a cost in accordance with it.
#5 – It's a Must to be Examined First
As eluded to above, everything should start with visiting your cosmetic dentist for an examination and consultation. Therefore, if there are any existing problems that need to be corrected beforehand, a strategy can be developed.
This is an important step to take, as your oral health should always be at the top of your list of priorities. This approach will also ensure that your new smile lasts longer.
If you're ready to take your appearance to the next level, then now is the time to contact your cosmetic dentist in Collierville to schedule a visit!
About the Author
Dr. Joshua A. Holcomb earned his dental degree from the College of Dentistry, UT Memphis. He has since gone on to provide nothing shy of exceptional care for the past decade. Dr. Holcomb creates beautiful smiles and boosts his patients' confidence by placing porcelain veneers at his private practice, and he can be reached for more information through his website.