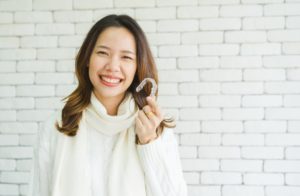 Have you chosen to invest in a straight smile using a discreet solution? That's great! Invisalign is a convenient option to correct your bite and alignment concerns. The aligners are worn over your teeth to apply consistent pressure to gradually move them into position. Since there aren't any brackets or wires, you'll enjoy fewer restrictions; however, there are 5 tips to keep in mind during the holidays to ensure nothing stands in your way of achieving your dream smile.

1. Wear your aligners for at least 22 hours per day.
The aligners aren't fixed to your teeth, so you can take them out at any time, which is perfect for public speaking, taking pictures, or enjoying your favorite meals. You'll need to wear them for at least 22 hours per day to prevent adding any delays to your treatment plan.
2. Keep your carry case with you.
Whether you're meeting your friends for lunch or traveling for the holidays, don't forget to take your storage case with you. You'll need to remove your aligners whenever you have anything except water. Many people have a bad habit of placing their aligners on a napkin or their plate while eating. This makes it easy to accidentally throw your aligners in the trash. It's best to place them in your storage case to keep them safe.
3. Maintain your oral hygiene.
Oral hygiene is crucial throughout your treatment to protect your smile from any additional complications, like tooth decay or gum disease. Not to mention, cleaning your aligners helps keep them translucent. You'll want to brush your teeth at least twice a day and floss every night before going to bed. Don't forget to use a soft-bristled toothbrush and a clear antibacterial soap to clean your aligners at least once a day.
4. Don't forget to visit your dentist.
Although you won't need appointments for adjustments, you'll still need to visit your dentist every few weeks to monitor the movement of your teeth. The holiday season is a busy time of year; however, don't skip your check-in visits. In addition, don't forget to visit your dentist for your second hygiene appointment before the end of the year.
5. Don't expose your aligners to heat.
Exposing your aligners to hot beverages will damage them. As soon as the hot liquid touches the aligners, it can cause them to bend out of shape. Your teeth might be moved in the wrong positions, delaying your plan. Always remove your aligners when eating and drinking and rinse them in cool water.
You can feel confident during the holidays while on your orthodontic journey. If you have any questions about your treatment, don't hesitate to contact your dentist.
About Dr. Joshua A. Holcomb
Dr. Holcomb has undergone advanced training in many specialties, like removable prosthodontics, oral surgery, and Invisalign. He is a member of various organizations, including the American Dental Association. If you're interested in Invisalign, contact our office today to schedule your consultation.