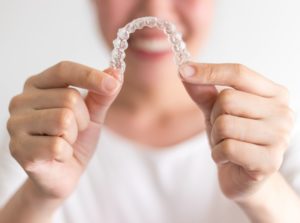 If you're an adult interested in getting a straighter smile, Invisalign is an excellent choice. These modern, clear braces are comfortable, easy to wear, and nearly invisible in your day-to-day life. However, are you still a good candidate if you've had traditional braces in the past? Will it still be effective if you have dental work like dental implants, crowns, or veneers? Read on to find out if Invisalign in Collierville can correct your smile if you've had other dental treatments—the answer may surprise you!
Can I Get Invisalign If I've Had Braces in The Past?
Before Invisalign clear braces, metal braces were the traditional way to straighten teeth. Unfortunately, it's very common for teeth to shift out of place over time after the treatment is done, especially if the patient doesn't consistently wear their retainer. If this sounds all too familiar, you can still regain your straightened smile. Invisalign can easily and discreetly realign your teeth if they've moved out of place after your traditional metal braces.
If I'm Currently Wearing Braces, Can I Switch to Invisalign?
Invisalign is becoming a very popular choice for straightening teeth. In fact, over 8 million people have used it to transform their smiles. If you discovered Invisalign after starting your traditional metal braces treatment, you may be wondering if you can switch. Thankfully, orthodontists can help numerous patients correct their teeth with a combination of traditional braces and Invisalign clear braces. However, every person's treatment is personalized to them. Talk to your orthodontist to discover the best approach to your unique situation.
Will Invisalign Work for Me If I Have Dental Restorations?
At this stage of your life, you may have had other dental work done to repair your smile as well. This does not automatically disqualify you from Invisalign, but it may change how effective it will be. Here's what you can expect if you have:
Dental crowns or fillings: The clear alignment trays of Invisalign fit perfectly over dental crowns and fillings, which means they are not likely to hinder your treatment at all.
Dental veneers: As long as your dental veneers are healthy, strong, and properly bonded to your teeth, they can typically be adjusted with Invisalign. However, you'll need to check with your orthodontist first.
Dental bridges: Invisalign is designed to straighten each tooth individually. Since dental bridges connect two or more teeth, Invisalign may not be the ideal treatment for you.
Dental implants: Since they're bonded to your jawbone, dental implants cannot be moved by Invisalign. However, if you only have one dental implant, your orthodontist can customize your treatment to take this into account and straighten your other teeth. On the other hand, if you have several missing teeth in a row, your orthodontist may suggest a different treatment.
While Invisalign is a great choice for those getting straighter teeth for the first time, it's also a great opportunity for those who have had dental treatments in the past. Talk to your Collierville orthodontist to discover if these modern, comfortable, and effective clear braces are right for you!
About the Author
Dr. Joshua Holcomb is a graduate of the College of Dentistry, UT Memphis and has taken additional advanced training in the Spear's Master Curriculum. He completes over 100 hours of continuing education every year to ensure he stays up to date on the newest dental technology and techniques, including Invisalign. To find out if Invisalign is right for you, feel free to reach him via his website or at (901) 850-0300.