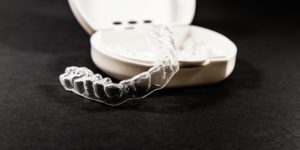 Are you satisfied with your smile? Sometimes, you may see flaws or imperfections in your grin, but you don't necessarily know how to fix them. Thankfully, cosmetic dentistry offers a wide-range of services that can enhance and transform your smile. But how do you know which services you'd benefit from most? Keep reading to learn about your options and how Invisalign in Collierville may be your best bet for a perfectly straight grin.
The Magic of Invisalign
If you want your teeth straightened without the adolescent look of braces, look no further. Invisalign treatment uses a series of clear plastic trays that shift your teeth into perfect alignment. The best part is that no one will know you're straightening your teeth! Plus, you can remove them to eat all of your favorite foods, and they're much more comfortable to wear than braces.
Beautiful Teeth Whitening
If your biggest concern about your smile is discoloration, professional teeth whitening is for you. Whether it's from routine coffee and wine drinking, or just plain-old aging, teeth become stained and discolored over time. With professional grade whitening, you can achieve dramatically white and bright results in just one quick visit to the dentist's office. This strength of whitening can't be purchased in-store, which makes it much more effective than products like whitening strips and toothpaste.
Pearly White Porcelain Veneers
Do you have various flaws in your grin like chips, cracks, stains, gaps, and more? Your smile could definitely use some help from porcelain veneers. These thin shells of dental porcelain are bonded to the front surfaces of your teeth to conceal a wide-range of flaws and to deliver you a perfect set of pearly whites. Additionally, dental porcelain is stain-resistant, so you can enjoy a bright white smile for years to come.
A Makeover for Your Smile
Smile makeovers combine 2 or more cosmetic services to give you a beautiful smile. If you have crooked or misaligned teeth paired with flaws like cracks and chips, you may benefit most from a smile makeover. Talk to your dentist in Collierville about which services you'd benefit from most. They will be able to develop a specific treatment plan for your makeover to give you the smile of your dreams.
Besides helping with the look and the health of your teeth, cosmetic services also give you a boost of confidence and self-esteem. If you've been avoiding photos or flashing your grin because of your smile's appearance, the above treatments will get you ready for many photo opportunities to come.
Meet the Dentist
Dr. Joshua Holcomb takes pride in providing expert dentistry to his patients. His favorite part of his job is boosting his patients' confidence through cosmetic dentistry to give them smiles that they can show off in their work and social lives. He currently runs his own practice, where he can be contacted through his website or by phone at (901) 850-0300 for any questions.