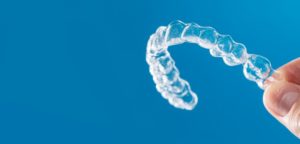 If you want to straighten your teeth as an adult, chances are you don't want to deal with uncomfortable, unprofessional-looking metal braces. For many, Invisalign in Collierville is a much more aesthetically pleasing option, but you may still have concerns about how the treatment will affect you day to day. Here's the truth behind 4 common worries you might have when considering Invisalign.
1. Will Invisalign Affect How I Talk?
During the initial adjustment period with your aligners, you might have trouble enunciating certain words; you might also have a slight lisp. Fortunately, this is a temporary inconvenience that will go away over time. Practicing speaking in private or reading aloud can help you get through this slightly awkward phase faster. Otherwise, there shouldn't be any long-term problems with speech.
2. Will Invisalign Smell Funny?
The good news is that the Invisalign aligners themselves do not have any smell. However, because they remain in your mouth for at least 22 hours a day, plaque buildup and generally poor oral hygiene can cause an unpleasant odor. To avoid this, follow these basic hygiene rules:
Do not eat or drink anything except for water while wearing the aligners. Always take them out when eating. Brush your teeth thoroughly and clean the aligners before putting them back in.
Always rinse your aligners when you take them out. Keep them in a case.
Use an Invisalign cleaning kit once in the morning and once in the evening. If your cleanser causes clouding or discoloration, ask your dentist for a different solution.
Remember that even if your aligners don't begin to smell bad, these oral hygiene steps are important for protecting your teeth during your treatment.
3. Can You Kiss Someone While Wearing Invisalign?
Invisalign are smooth and fit close to the teeth; they won't affect your ability to kiss someone, and the other person is unlikely to notice you're wearing them. While you may want to remove your aligners while kissing, it's important to make sure you're wearing them enough each day so you don't accidentally extend your treatment time.
4. How Much Will Invisalign Cost?
Every patient is in a different situation and will incur different costs depending on what's needed. In many cases, the cost of Invisalign will be similar to that of braces, but there are multiple factors such as how many aligners are required and how much correction is needed. Your dentist will help you form an estimate so that you can decide whether the treatment is affordable.
Feel free to speak with your dentist in Collierville about any additional concerns you have about Invisalign; it's important to have all the facts before you start working towards the beautiful smile you deserve.
About the Author
Dr. Joshua A. Holcomb has been practicing dentistry for six years and is proud to be able to give each of his patients gentle, specialized care. He's skilled in providing a variety of treatments for patients of all ages and offers Invisalign for adults who want straighter smiles. To schedule an appointment at his practice, visit his website or call (901) 850-0300.