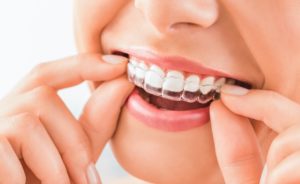 When compared to traditional metal braces, Invisalign clear aligners have many advantages. You don't need to deal with brackets or wires, you're less likely to have an emergency visit, you can continue to eat all of your favorite foods, and they are virtually invisible! For the best results, it's important to take good care of them and follow instructions closely. Continue reading to learn what you need to avoid for the best outcome.
Don't Forget to Brush
When you have Invisalign, it is especially important to brush after every meal or snack. If you don't, leftover food can become stuck in your teeth and trapped in by the aligner. This can cause bacteria growth which will ultimately lead to bad breath and tooth decay.
Don't Eat with Them
Unlike traditional metal braces, you don't need to limit your diet while you're undergoing Invisalign treatment. However, you do need to remember to always take them out before snacks and meals. Leaving them in can cause them to become scratched or damaged.
Don't Rush
Your treatment is not intended to be rushed. Your teeth need to move at a consistently slow pace to get the proper results. Rushing the treatment can cause tooth reabsorption or shrinkage. This makes your teeth less stable and can even cause them to fall out.
Don't Drink Beverages Other Than Water
If you want to have another beverage, like a cup of coffee, make sure to take out your aligners for that brief period. Having drinks other than water can cause the liquid to get stuck in the trays. This results in stained teeth and tooth decay.
Don't Skip a Day
You should be wearing your aligners 20-22 hours a day. Failing to do this compromises your treatment. It can cause discomfort when you put the trays back in, your teeth can revert to their original position, and you could have delayed results.
Don't Forget to Clean Your Aligners
It's important to keep your trays clean. To do this, rinse your aligners every night. Brush them gently with your toothbrush to keep them fresh.
Don't Skip Your Appointments
It's crucial that you regularly see your dentist for thorough cleanings and checkups. The health of your teeth and gums is important, even when they're being readjusted to their new places.
Invisalign is a great option for those who want a straighter, more aligned smile. Remember to avoid these things so you can end up with the smile you've always wanted without complications.
About the Author
Dr. Joshua A. Holcomb is a dentist in Collierville, TN who is dedicated to practicing many different aspects of the field. He earned his Doctor of Dental Surgery from the College of Dentistry, UT Memphis. Since graduating, he has consistently completed well over 100 hours of continuing education each year. Dr. Holcomb provides Invisalign clear aligners as one of his many services. For more information, visit hiswebsite or call (901) 850-0300.