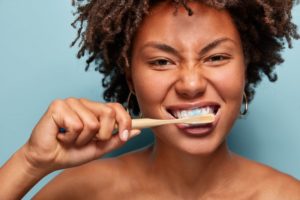 After reflecting on your habits and lifestyle in 2019, you've come up with a lengthy list of potential resolutions you could follow through with for a happier and healthier you. It's not surprise that your oral habits may not have made it onto that list. People often overlook the connection between their mouth and the rest of their body, and what many people don't know is that with a better dental hygiene routine, you can improve your overall wellbeing. Read on for four resolutions from your family dentist in Collierville for a healthier you.
Keep Up With Your Checkups & Cleanings
The American Dental Association recommends regular visits to the dentist in Collierville to maintain a healthy mouth. However, many people push these appointments to the backburner because they're diligent about brushing and flossing daily. While your at-home hygiene routine is often your first defense against oral health problems, it's still necessary to visit your dentist for a professional examination and cleaning every six months. They're equipped with special knowledge and tools necessary to diagnose and prevent oral health problems from forming.
Make a Commitment to Daily Flossing
The Centers for Disease Control and Prevention conducted a national survey that reveals that only about 30 percent of Americans floss daily. Many people aren't aware of how much regular flossing can reduce their risk of cavity formation and freshen their breath. In fact, the American Dental Association released a statement emphasizing that daily flossing is an important dental hygiene practice to maintain healthy teeth and gums. If you don't floss because it's inconvenient or a cumbersome task, try using new tools like water flossers or flossing picks. These make it easier and faster to clean food debris between each of your teeth.
Reduce Your Intake of Sugar
Being mindful of how much sugar you consume daily can be a great way to reduce or eliminate cavity development in 2020. Harmful oral bacteria feed on sugar so they can thrive and accumulate. It also allows them to release waste in the form of enamel-eroding acid or toxins that cause the early stages of gum disease. By reducing your sugar intake and substituting healthier alternatives like sugar-free gum and fruit when you're craving something sweet, you can enjoy a cavity-free decade.
Break Bad Oral Habits
Certain bad oral habits drastically increase your risk of experiencing dental emergencies as well as oral diseases and infections. According to the Centers for Disease Control and Prevention, smoking doubles your risk of developing gum disease and is connected to countless additional health problems. For a healthier year, try quitting by finding a healthier habit or activity to engage in when you're craving a cigarette. If you're having trouble kicking smoking, try speaking with your doctor for recommendations and tips to help.
The new year isn't about creating a new you, it's about reflecting on your habits and activities and brainstorming ways you can be healthier and happier. Whether that means reading more or giving yourself more time for self-care, looking after your body and mind is an important goal to have in 2020. When you make a commitment to taking care of your oral health by following these tips, you'll be taking care of the rest of your body as well.
About the Author
Dr. Joshua Holcomb has been practicing dentistry since he completed his Doctor of Dental Surgery from UT Memphis College of Dentistry in 2009. He remains an active member of several professional organizations, which allows him to stay up-to-date with the latest technology in the dental field. He has also completed advanced education courses that have allowed him to sharpen his skills and provide his patients with the highest quality of care. For questions or to schedule a checkup and cleaning, visit his website or call 901-850-0300.