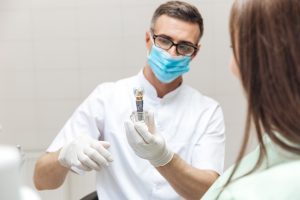 Losing a tooth is stressful, but it can be less traumatic if it's a molar because no one can see it. Although it may not be visible when you are smiling, it's best to treat your lost tooth right away. A gap in your smile isn't just an aesthetic issue. It can have lasting consequences for your oral and overall health. Here's why you shouldn't wait to replace a missing tooth.
Risks of Untreated Tooth Loss
Each tooth serves an important purpose and is essential for a healthy, functional smile. Losing even one tooth can cause serious complications, including:
Poor Dental Health: Your teeth will shift toward the space created by a missing tooth over time. Misaligned teeth are difficult to keep clean, increasing your risk of tooth decay and gum disease.
Bone Loss: You can lose up to 25% of your jaw's density within the first year of missing a tooth because it is not being stimulated by a root. Your bone will continue to deteriorate as time passes, which can cause you to look years older than your true age. You can develop a sunken appearance and experience several oral health problems from insufficient bone support.
Nutritional Deficiencies: Tooth loss can make it difficult to eat certain foods, so you might choose to eliminate them from your diet, like chewy meat. Unfortunately, this can lead to nutritional deficiencies that can affect your health.
TMJ Disorders: Shifting teeth can affect your bite. An unbalanced bite can cause inflammation of your temporomandibular joints, which can lead to recurrent jaw pain and dysfunction.
Tooth Loss: The more bone you lose, the less support your remaining teeth will have. They can loosen and fall out over time.
Options to Replace a Lost Tooth
It's never too late to replace a lost tooth. You have more options than ever before to fill the gap, like:
Fixed Bridge: Your cosmetic dentist will use an impression of your mouth to create a prosthetic tooth to fill the space of the one you've lost. It recreates the portion above your gum line, which is held in place by bonding dental crowns to your adjacent teeth.
Dental Implant: A dental implant mimics the entire tooth structure. A titanium post is surgically placed into your jaw to serve as a new root. It will provide support for your restoration, which is attached using an abundant.
Whether you lose a molar or a front tooth, it's best to have it replaced sooner rather than later. Your dentist will create the natural-looking solution you need to restore a healthy, beautiful smile.
About Dr. Joshua A. Holcomb
Dr. Holcomb earned his dental degree from the College of Dentistry, UT Memphis, and has regularly continued his education in many specialties, including prosthodontics, oral surgery, sedation dentistry, and dental implants. He has the experience and qualifications to treat the most complex cases of tooth loss. Contact his office at (901) 612-2477 to schedule an appointment.