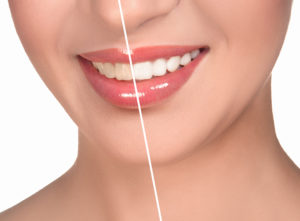 We're almost a quarter into 2018. Have you met any of your goals yet? If not, it's not too late. You can still brighten your smile, improve your confidence, and keep striving to reach your goals when you try teeth whitening in Collierville from a professional. Learn more about your safe whitening options in this week's blog post!
Learn About Your Professional Teeth Whitening Options
If you want to achieve a brighter smile quickly, don't waste your time with drugstore quality products. Your local dentist has the professional grade bleaching products that can help you reach your smile goals in a quick, effective way. There are two options to choose from: in-office treatments and at-home whitening kits.
In-office treatments offer the fastest results with the most dramatic improvements. Why? Your local dentist will be able to treat your teeth with the high-quality products right in our office during one visit. The process is accelerated with a special UV light and can be repeated safely until you feel like your teeth are white enough.
If you would rather whiten your teeth at home, you can try a custom kit from your dentist. You'll still have access to the highest quality products because your dentist will send you home a prescribed whitening kit with specific directions to follow. In just a matter of just one to two weeks, your teeth will look dramatically brighter!
Trust a Professional with Your Smile
If you want your smile to look great and feel great—minus sensitivity or lackluster results—trusting your dentist with your teeth whitening is the best decision that you can make for your oral health. Not only will your gums and soft tissues be protected from any harsh bleaching products, but you can be confident that your teeth will actually look different in a short amount of time.
Drugstore products just aren't reliable enough. Too many patients invest their time and money into these . That's why your dentist is sure to only use products that guarantee the results that you really want.
Keep Conquering 2018 with More Confidence!
Teeth whitening can help you achieve your goals in 2018. With whiter, brighter teeth, you'll have the confidence you need to conquer all your new year's resolutions. Get in contact with your dentist in Collierville to learn more.
---
About Our Office
Here at the dental office of Dr. Joshua Holcomb, we know that having stains on your teeth doesn't just make you feel bad about yourself, but it can stop you from reaching your highest potential.  Having a bright white smile will supercharge your confidence, and getting one is easier than ever when you trust your dentist with safe, professional teeth whitening. Nothing will be able to stop you from accomplishing your goals when you feel great and look great. Feel free to contact us today to learn how professional teeth whitening can help you!