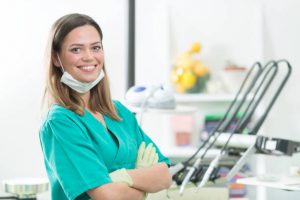 Besides brushing and flossing, regular dental care is essential for keeping your teeth and gums healthy. Although you spend a lot of time with your dentist during a preventive appointment, your dental hygienist is equally important to your oral health. Here are 5 reasons to show your dental hygienist the appreciation they deserve.
1. Experts in Oral Hygiene
You must undergo at least a two-year program in clinical training to become a dental hygienist. They are experts in keeping your mouth clean to prevent oral health problems, like cavities and gum disease. Besides cleaning and polishing your teeth, they can provide you with personal advice to keep your smile clean and healthy in between your regular appointments.
2. Help Keep Your Teeth and Gums Healthy
A dental hygienist is the first person to get a good look at your teeth when you come in for a cleaning and checkup. They are another trained eye monitoring the health of your smile. If they see anything concerning, like gum inflammation, they'll relay their findings to your dentist to ensure nothing is overlooked.
3. Performs X-Rays, Impressions, and Other Services
A dental hygienist is responsible for more than just dental cleanings. They are also qualified to perform minor services and procedures, like taking X-rays, applying dental sealants, or fluoride treatments. They are an extra set of hands to help ensure the dental office runs smoothly while you reach your oral health goals.
4. Better Dentist-Patient Communication
Your dental hygienist is your liaison between you and your dentist. They work closely with both of you to ensure your needs are met and you're satisfied with the care you receive. You'll enjoy more personalized services to have one more reason to smile.
5. Lifelong Friendship
Sticking with the same dental team over the years allows you to develop close relationships with everyone in the office. They become more than just smiling faces. They become friends and even like family, while investing in a healthy smile.
When it's time for your next cleaning and checkup, give your dental hygienist a little thanks. Without their expertise, your smile wouldn't be at its best.
About Dr. Joshua A. Holcomb
Dr. Holcomb earned his dental degree at the College of Dentistry, UT Memphis, and has regularly continued his education in many specialties, like sedation, dental implants, and TMJ therapy. He works closely with your dental team to provide superior patient-focused care. If it's time for a cleaning and checkup, contact our office through our website or call (901) 612-2477 for an appointment.