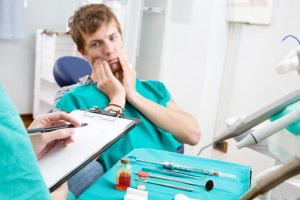 You never know when you'll need an emergency dentist in Collierville. We know that no one wants urgent dental care, but you definitely don't want to be left without a good dentist to call when something unexpected does pop up. We've got an idea — why don't you save our number into your phone, or display it prominently in your home? Or even better, do both. It's one small step that can save you a lot of stress when the moment arrives. Reach us on our emergency hotline at (901) 410-9589.
Once you've saved our number into your cell phone, help yourself be even more prepared by reading our top tips for the three most common dental emergencies.
Knocked out or dislodged tooth
It's easy to lose your cool when a tooth becomes dislodged or is completely knocked out. The important thing to do in this situation is to remain calm and call your dentist immediately. Teeth have the greatest chance for reattachment within the first two hours of loss, so don't waste any time contacting our office.
Other important things to remember when dealing with this type of dental emergency:
Find the missing tooth and rinse away any debris

Hold tooth by its crown, never the root

Store tooth in its socket, the cheek or a cup of milk until you can reach the dentist
Severe toothache (or abscess)
Don't wait to seek a dentist's attention when you've got a toothache. Once it gets to the point where you can't function normally due to the pain, you've got a dental emergency — and fast treatment is necessary to prevent problems related to infection. In the meantime, take an over-the-counter pain medication to find relief from discomfort.
A note on children's toothaches: Children often complain of an aching tooth as a result of having something (usually a large food particle) lodged between teeth. To see if that's what's causing the discomfort, help your child brush, floss and rinse to thoroughly clean teeth. If pain persists, call the dentist immediately.
Broken tooth
When you experience a broken tooth, call the emergency dentist and collect, rinse and store the larger missing piece(s) for possible reattachment. Stop any bleeding by applying firm but gentle pressure with a clean cloth. Again, pain can be managed with an over-the-counter medication. Swelling is reduced with an ice pack applied to the exterior affected area in 15 minute intervals.  
The two most important things in any emergency…
If you or someone you love experience a dental emergency, please don't forget the two most important pieces of advice for any urgent situation.
Keep calm

Call the emergency dentist immediately
Even if you don't remember anything else, you'll be safe with these two tips. Don't forget that Dr. Joshua A. Holcomb is your Collierville emergency dentist!