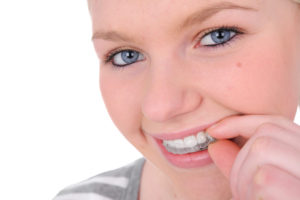 If you have recently made the choice to improve your smile with Invisalign in Collierville, you are making an excellent decision. The clear aligners gradually straighten your teeth while offering many benefits that are not possible with other orthodontic treatments. Not only are they a less noticeable option, but they are far more convenient and none restrictive because there are no wires and brackets. However, you will still need to care for the them. To keep your teeth healthy and your aligners looking great, Dr. Joshua Holcomb has the information you need for good oral hygiene during your treatment.

What Is Invisalign?
Invisalign is an FDA-approved treatment that uses a series of aligners to gradually move your teeth into position. Using impressions, they offer a custom-fit while being clear and removable for a discreet and convenient alternative to traditional braces. You will wear them for about 22 hours per day, only taking them out when eating or drinking. On average, treatment will take about 12 months. As your Collierville dentist, Dr. Holcomb will help you achieve a straight smile with Invisalign.
How Do I Care for the Aligners?
When using Invisalign, you will need to take extra care to protect your teeth and the aligners from damage. Do not eat or drink anything expect water while wearing them. Not only can they break, but stains can develop, causing them to lose their transparency. Dried saliva and plaque can cause foul-smelling and harmful bacteria to develop on the aligners, so they will need to be rinsed when you remove them. Before placing them back into your mouth, it is best to brush and floss to prevent food particles from becoming trapped between the aligners and your teeth, which can lead to tooth decay.
The aligners require daily cleaning with a clear, anti-bacterial soap, not toothpaste. It is best not use products that contain dyes, which can stain the aligners. Gently brush them with a soft-bristled toothbrush, but not too aggressively or scratches will develop. You can also soak them in a cleaning solution, like a denture cleaner.
Take extra care whenever your they are not in your mouth to protect them from exposure to bacteria while also placing them in an area where they will not be dropped or misplaced. If you play sports, you can remove them to use athletic mouthguard to protect the aligners and your teeth from damage.
Although your teeth are covered by the aligners, you still need to brush twice a day and floss daily. By maintaining your oral hygiene habits throughout your treatment, you will help to ensure your teeth are healthy for a flawless smile. Adding a few minutes into your daily routine to care your aligners is easy and will be time well spent.
Where Can I Get Invisalign?
If you are ready to start your journey to straight teeth, it is time to call your dentist in Collierville, Dr. Holcomb, to schedule a consultation. He will create the treatment plan you need for a healthy, confident smile.