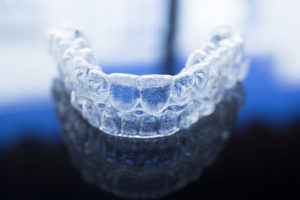 When it comes to orthodontics, you often think about the cosmetic benefits Invisalign in Collierville can offer. By correcting the alignment of your teeth, you can smile with confidence. Not to mention, you will improve your oral health by making your teeth easier to clean; however, did you know that the clear aligners offer another benefit as well? They can correct your bite. An improper bite can lead to an array of issues, like difficulty chewing and speaking. Now, you can improve your quality of life with a proper bite without having to spend months wearing braces.

Importance of a Proper Bite
A poorly aligned bite cannot only affect your appearance, but your quality of life as well. When your teeth do not align correctly, it will put strain and pressure on the temporomandibular joint, which connects your jaw to your skull. This can lead to a painful disorder that can affect the jaw joints, neck, and head. It can even cause you to experience frequent headaches.
When the jaw is stressed, it can lead to grinding and clenching of your teeth. Not only will this cause the TMJ disorder symptoms to flare, but it can also damage your teeth.
It can cause uneven wear on your teeth also when chewing and speaking. The friction can cause unnatural angles on your teeth over time. Eventually, this can lead to significant dental problems, like an increased risk for a fracture.
Correct Your Bite with Invisalign
Your dentist in Collierville can correct your bite without brackets and wires. Using clear aligners, your teeth will be moved into their ideal positions. This offers a nearly invisible treatment while giving you the results you need sooner. In fact, the average treatment plan only takes about 12 months. Invisalign can be used to treat overbites, crossbites, and open bites.
During your treatment, you must be committed to wearing the aligners for at least 22 hours per day. You will also need to clean them daily while maintaining your oral hygiene. You will require periodic check-ins with your dentist to ensure that your treatment is progressing correctly.  After you have finished all the aligners in your series, you will briefly require a retainer to prevent your teeth from moving back into their previous positions.
Invest in Your Smile Today
If you have a poorly aligned bite, Invisalign can help. Your Collierville dentist will create the customized treatment plan you need to improve your oral health and quality of life. Invest in your smile today with clear aligners!
About Dr. Joshua A. Holcomb
Dr. Joshua A. Holcomb provides comprehensive dental care to the community to promote healthy, beautiful smiles. He offers the services necessary for healthy teeth and gums. In addition, he provides many cosmetic services, including Invisalign, to build confident smiles. If you suffer from bite or alignment issues, he will create the individualized treatment plan you need. Contact our office today to see if Invisalign is the right option for you.