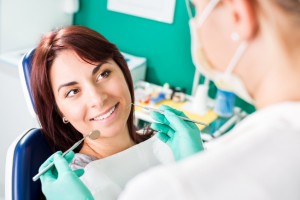 Hey, Collierville, we've got good news for you in 2016. Trusted dentist Dr. Joshua Holcomb is accepting new patients! Our practice offers a variety of services and is in network with most PPO insurances. Keep reading to learn more about top Collierville dentist Dr. Holcomb and his team of dental professionals. We're standing by to schedule your appointment when you've finished.
The Collierville Dentist You and Your Family Can Count On
It's a fact: when you have an excellent dentist to call your own, your oral health improves. Joshua Holcomb DDS is experienced in the following dental services to help maintain the whole family's oral health.
General and Family Dentistry Keeps All Smiles Happy
We work to make sure our general dentistry services consider a broad range of needs to accommodate smiles of all sizes, including pediatric care. From regular checkups, cleanings and x-rays to preventive education and quick treatment of minor cavities, we can stop problems from starting — and catch them early when they do.
Restorative Dentistry Brings Your Oral Health Back
If dental damage, decay or missing teeth are impacting your smile confidence, you deserve to have your teeth restored free from judgement or embarrassment. At Joshua Holcomb DDS, that's exactly what we offer: compassionate, quality care for all of our patients. Tooth-colored crowns, dental implants, crown and bridge, full mouth reconstructions and many other options are available to restore your dental health.
Make Your Smile Dazzle with Cosmetic Dentistry
Almost everyone could benefit from a little (or maybe a big-time) smile spruce up. When you decide that you could, too, you'll be relieved to know that Dr. Holcomb is also an experienced cosmetic dentist. Whether it's teeth whitening, Invisalign, veneers or even a full smile makeover, we've got just what your smile needs with our offerings in cosmetic dentistry.
Sedation Dentistry Provides Freedom from Fear and Anxiety
Whether they realize it or not, most adults share one thing: a fear of the dentist. That's why our Collierville office is committed to providing comforting care with sedation dentistry. Conscious sedation allows you to achieve a deeper state of relaxation so you can sit back and relax on your way to excellent oral health.
Contact Us for Superb Dental Care in Collierville
When you're ready to see for yourself the difference having a top dentist can make, don't wait — contact the office of Joshua Holcomb DDS. Don't forget that right now, we're accepting new patients just like you — and we're happy to work with most PPO plans. Click here to request your appointment online today!