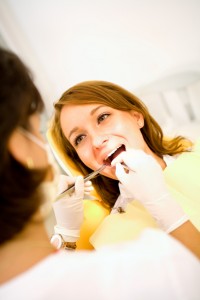 As spring nears, we prepare for the season of renewal and new beginnings — and most of us celebrate with a thorough house cleaning. This year, why don't you give your mouth the same treatment? If you're one of the 75 percent of Americans who suffer from gum disease, chances are good your teeth need a deep cleaning. Your dentist in Collierville, Dr. Holcomb, is here with more on the practice and why you should take advantage for a healthier mouth.
Deep cleanings reach below the gum line
When you undergo a regular dental cleaning every six months like you should, your dental team just cleans the visible portion of your tooth, or above the gum line. That's because if you're visiting the dentist regularly, you probably won't need anything more involved than a regular cleaning. But if it's been awhile since your last checkup, or if you can't even remember when you last visited the dentist, your gums are probably suffering — and a deep cleaning may be necessary.
A deep cleaning is also known as scaling and root planing. To perform this treatment, your trusted dental team first cleans above and at the gumline, just like you're used to. But then, we clean out the pockets which lie between the teeth and gums. And once that's complete, we use a special tool known as a root planer to reach down to the surface of the root, to remove plaque and tartar buildup that you can't even see.
After your deep clean
After you receive the scaling and root planing procedure, your teeth and gums should be much healthier in the days and weeks to come. To keep them that way forever, maintain vigorous at-home oral hygiene by keeping up with the following:
Brushing for two minutes, twice a day. Set a timer if you have trouble with the latter.

Flossing daily. Make it a habit by placing the floss somewhere you'll see it each evening, like on your nightstand or beside your toothbrush.

Visiting the dentist as recommended. Once you've had a deep cleaning, we'll want to check in on your teeth regularly — make sure you don't skip out on these appointments.
Think you need a thorough clean? Talk to us today!
If you suspect (or already know) that you're suffering from gum disease and you believe that a deep cleaning is just the treatment you need to get your mouth back on track, don't wait to contact Dr. Holcomb's office. We'll help you treat your gum disease with a deep cleaning or other treatment so that you can enjoy a healthy, beautiful smile and fresher breath once again.